MTD has one of the most comprehensive, independent test and inspection facilities in the UK.
In addition to extensive UKAS, NADCAP and Aviation Prime accreditations, MTD is also a DTI recognised third party organisation under regulation 20 of the Pressure Equipment Regulations 1999.
Operating from our Head Office in Cardiff, our Engineers, Metallurgists, Consultants and Lecturers can supply testing, inspection and training expertise In house in our laboratories, or at your facilities around the world. Utilising a "tool-box" approach including Non-Destructive and Destructive Testing, Metallography and Materials Investigation, MTD provide a complete service. From routine assessment to specification conformity, failure investigation to procedure development, our 100+ years of experience backed by UKAS Accredited capability, sees us well placed to support your organisation.
Material & Mechanical Testing
Our UKAS accredited material & mechanical testing laboratories are staffed by a team of dedicated and experienced scientists. Samples are prepared for elemental and microstructural analysis in an extensive range of materials, using a variety of destructive and non-destructive methods. MTDs microscopy capabilities include both optical and scanning electron microscopes (SEM), with our SEM capable of examining surfaces and fractures at up to 100,000 times magnification.
From the examination of a failed bolt, to the devising and implementation of test programs on large volume, production components, MTD are experienced in providing innovative services, which can be supported by professional advice and expert witness support when required.
A range of mechanical testing procedures are available and covered in our schedule of UKAS accreditation. These include tensile, impact and hardness testing.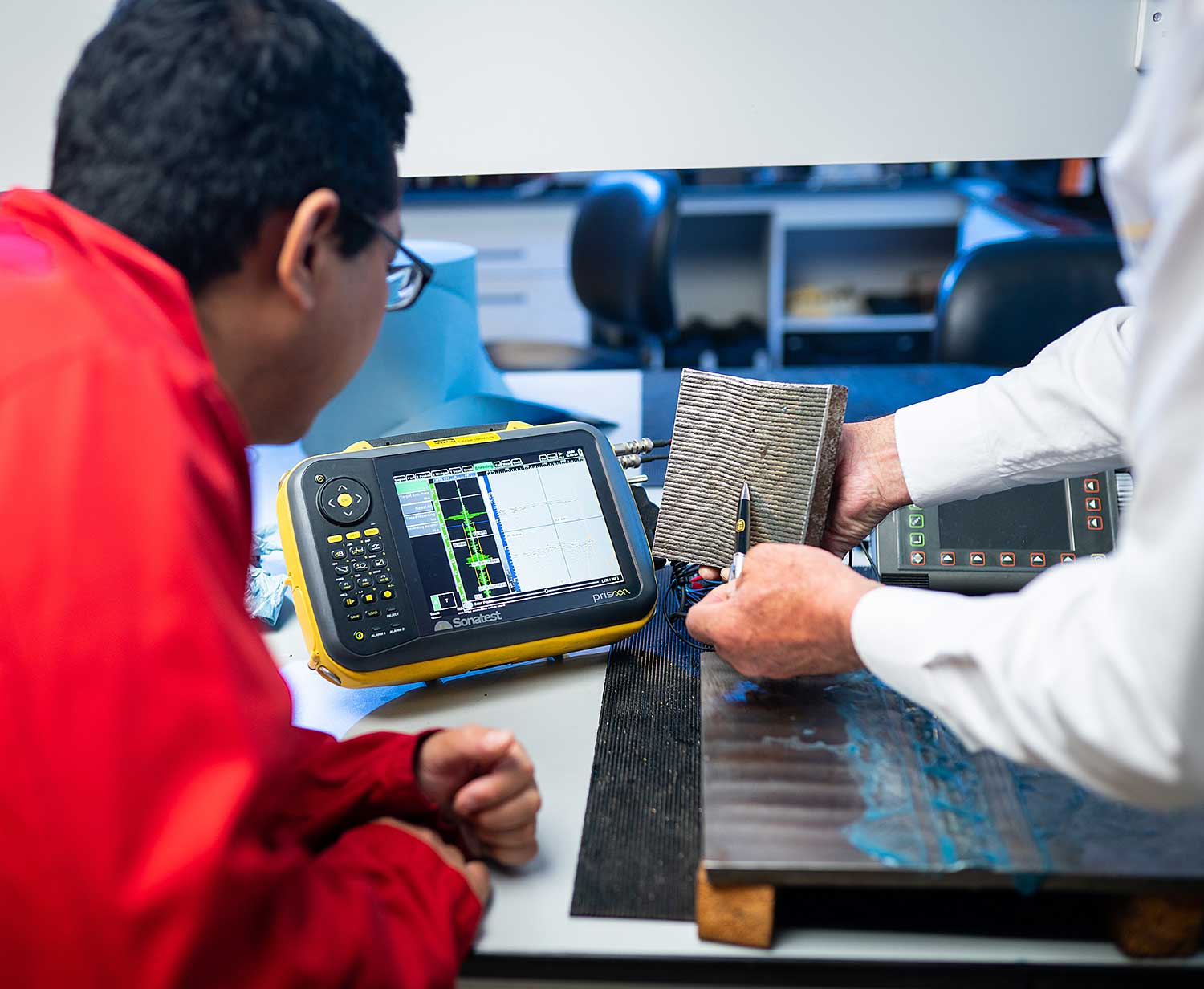 Welding Certification
Covering an extensive range of materials and processes, our certified welding inspectors monitor and witness weld production on site. Our UKAS accredited laboratories will then conduct the necessary test piece examination to complete the certification process.
As a designated notified body under the Pressure Equipment Directive 97/23/EC for the Approval of Welding Personnel, we really can offer a complete welding certification service.
Non-Destructive Testing (NDT)
Our NDT department provides a comprehensive range of on-site and laboratory based testing, from our modern Cardiff facility. Serving the Aerospace, Defence, Marine, Energy, Power Generation, Chemical and Engineering sectors we offer a range of NDT inspection methods.
The correct application of NDT is vital to successfully detecting defects. Our experienced inspectors are trained and qualified to ensure the highest standards are met at all times, with our team operating globally, at short notice and across multiple industries.
This activity is controlled by local and international industry standards for which we hold accreditation in a host of methods, including:
Radiographic Testing
Ultrasonic Testing (Conventional and Phased Array)
Eddy Current Inspection
Magnetic and Penetrant Testing
Laser Shearography
For further information about the wide array of engineering services we provide please contact us: